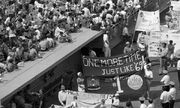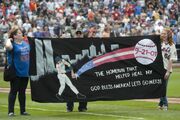 Banner Day is a New York Mets tradition which fans create their own banner/posters honoring the team. The fans walk around the field showing their banners. It started in 1962 and ended in 1996. Although it was never official, it was on a hiatus. It later returned 12 years later on May 27, 2012 at Citi Field. The judges that day were Rusty Staub, Doc Gooden and Darryl Strawberry. It took place at the Polo Grounds ('62-'63) then at Shea Stadium ('64-'96). It's latest took place at Citi Field (May 27, 2012).
"the bunt" • "the catch" • Alex Anthony • Banner Day • Can't Anybody Here Play This Game? • Chico Escuela • Cowbell Man • Family Day • Frequency • Game 6 • Generation K • George Kalinsky • Grand Slam Single • Helmet Day • Jane Jarvis • Kiner's Korner • "Let's Go Mets Go" • Logos and uniforms of the New York Mets • Lovable Losers • Mathematically Alive • "Meet the Mets" • Mettle the Mule • Michael Sergio • Mr. Met • Mrs. Met • Sidd Finch • Sign Man • "The Boyfriend" • The Odd Couple • The Worst Team Money Could Buy: The Collapse of the New York Mets • Ya Gotta Believe • Mets in Popular Culture
Ad blocker interference detected!
Wikia is a free-to-use site that makes money from advertising. We have a modified experience for viewers using ad blockers

Wikia is not accessible if you've made further modifications. Remove the custom ad blocker rule(s) and the page will load as expected.