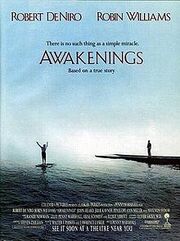 Awakenings is a 1990 American drama film based on Oliver Sacks' 1973 memoir of the same title. It tells the true story of British neurologist Oliver Sacks, fictionalized as American Malcolm Sayer and portrayed by Robin Williams who, in 1969, discovers beneficial effects of the then-new drug L-Dopa. He administered it to catatonic patients who survived the 1917–28 epidemic of encephalitis lethargica. Leonard Lowe (played by Robert De Niro) and the rest of the patients were awakened after decades of catatonia and have to deal with a new life in a new time. The film was nominated for three Academy Awards.
Since the film takes place in 1969, the Mets who won the World Series are mentioned by Julie Kavner (Eleanor Costello) who reads the story about the Mets winning the series to a patient at the hospital. It was described as the "wettest wildest win in World Series history."
Ad blocker interference detected!
Wikia is a free-to-use site that makes money from advertising. We have a modified experience for viewers using ad blockers

Wikia is not accessible if you've made further modifications. Remove the custom ad blocker rule(s) and the page will load as expected.