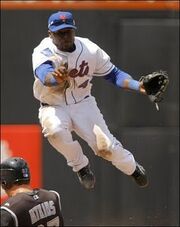 Ángel Maria Berroa Selmo (born January 27, 1978 in Santiago de los Caballeros, Dominican Republic) is a infielder currently playing with the Arizona Diamondbacks.
He only played for the mets in 2009. He came with the club on July 11 where he signed with the team to a minor league deal. He was assigned to the Triple A Bisons. He came up with the mets a few days later on July 16. Angel was later DFA'd by the Mets on August 7.
Ad blocker interference detected!
Wikia is a free-to-use site that makes money from advertising. We have a modified experience for viewers using ad blockers

Wikia is not accessible if you've made further modifications. Remove the custom ad blocker rule(s) and the page will load as expected.