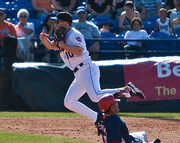 Andrew Mulligan Green (born July 7, 1977) is a infielder who is a free-agent.
In 2008 he was picked up by the New York Mets.
He only played 4 games with the Mets in 2009.
On January 5,2010 he signed a minor league deal with an invite to Spring Training.
He was released after the 2010 Season.