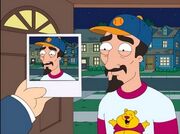 American Dad! is an American adult animated sitcom created by Seth MacFarlane, Mike Barker, and Matt Weitzman for the "Animation Domination" lineup on Fox. American Dad! is the first television series to have beginnings on Animation Domination. The series premiered following Super Bowl XXXIX on February 6, 2005, separately of the rest of its first season which began on May 1, 2005.
The Mets are only mentioned once in the show. The episode Red October Sky which is the 13th episode of the 3rd season. The character Sergei Kruglov comes by the main character Stan Smith's front door to prove he has changed since his communist days as a KGB Agent. He wears a New York Mets cap. But the only thing different is instead of a Mets related logo it has a baseball in orange. The cap is a two-tone version and the colors of blue and orange on the same cap did not come out at the time around the episodes premiere, as the cap was released in 2013.
Ad blocker interference detected!
Wikia is a free-to-use site that makes money from advertising. We have a modified experience for viewers using ad blockers

Wikia is not accessible if you've made further modifications. Remove the custom ad blocker rule(s) and the page will load as expected.