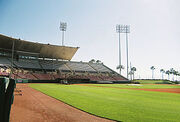 Al Lang Stadium, Progress Energy Park or Progress Energy Park, home of Al Lang Field was the New York Mets first spring training stadium from 1962-1987.
In 1988 the Mets moved to Digital Domain Park or at the time Thomas J. White Stadium to be their new spring training home.
Regular Season
Polo Grounds * Shea Stadium * Citi Field
Spring Training
Al Lang Stadium * Tradition Field
Ad blocker interference detected!
Wikia is a free-to-use site that makes money from advertising. We have a modified experience for viewers using ad blockers

Wikia is not accessible if you've made further modifications. Remove the custom ad blocker rule(s) and the page will load as expected.