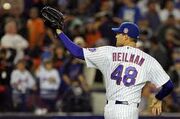 Aaron Michael Heilman (born November 12, 1978) is a Major League Baseball starting/relief pitcher for the Pittsburgh Pirates.
He began his career with the New York Mets on June 26,2003 in a 6-1 loss to the Florida Marlins. In 2005 he moved from the rotation to the bullpen. In the off-season of 2009 he was traded to the Seattle Mariners that got them J.J. Putz,Sean Green and Jeremy Reed.
Ad blocker interference detected!
Wikia is a free-to-use site that makes money from advertising. We have a modified experience for viewers using ad blockers

Wikia is not accessible if you've made further modifications. Remove the custom ad blocker rule(s) and the page will load as expected.