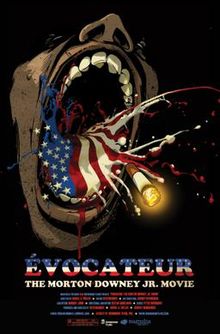 Évocateur: The Morton Downey Jr. Movie is a 2012 documentary film that chronicles the history of The Morton Downey Jr. Show and Downey's influence on "trash TV." The film also looks at Downey's relationship with Al Sharpton and other important 1980s figures, as well as Downey's role as a predecessor for conservative commentators like Glenn Beck and Rush Limbaugh.
A major scene that regards the Mets is when Morton Downey Jr. sings the national anthem at Shea Stadium and is interviewed by the Mets broadcasters.
There is one scene in the film during a taping of the show where there is a Mets fan wearing the 1980s style home jersey.
Ad blocker interference detected!
Wikia is a free-to-use site that makes money from advertising. We have a modified experience for viewers using ad blockers

Wikia is not accessible if you've made further modifications. Remove the custom ad blocker rule(s) and the page will load as expected.