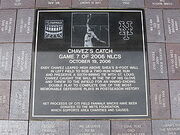 In Game 7 of the 2006 NLCS Endy Chavez made a catch over the left field wall at Shea Stadium against the St. Louis Cardinals.
The quote by SNY's Gary Cohen on the 660 WFAN when Chavez made the catch
"Edmonds at first and one out, and Pérez deals. Fastball hit in the air to left field, that's deep, back goes Chávez, back near the wall, leaping, and.... he made the catch! He took a home run away from Rolen! Trying to get back to first is Edmonds... he's doubled off! And the inning is over! Endy Chávez saves the day! He reached high over the left field wall, right in front of the visitors bullpen, and pulled back a two run homer! He went to the apex of his leap, and caught it in the webbing of his glove, with his elbow up against the fence. A miraculous play by Endy Chávez, and then Edmonds is doubled off first, and Óliver Pérez escapes the 6th inning. The play of the year, the play maybe of the franchise history, for Endy Chávez, and the inning is over."
"the bunt" • "the catch" • Alex Anthony • Banner Day • Can't Anybody Here Play This Game? • Chico Escuela • Cowbell Man • Family Day • Frequency • Game 6 • Generation K • George Kalinsky • Grand Slam Single • Helmet Day • Jane Jarvis • Kiner's Korner • "Let's Go Mets Go" • Logos and uniforms of the New York Mets • Lovable Losers • Mathematically Alive • "Meet the Mets" • Mettle the Mule • Michael Sergio • Mr. Met • Mrs. Met • Sidd Finch • Sign Man • "The Boyfriend" • The Odd Couple • The Worst Team Money Could Buy: The Collapse of the New York Mets • Ya Gotta Believe • Mets in Popular Culture
Ad blocker interference detected!
Wikia is a free-to-use site that makes money from advertising. We have a modified experience for viewers using ad blockers

Wikia is not accessible if you've made further modifications. Remove the custom ad blocker rule(s) and the page will load as expected.