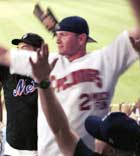 Marty Haber known as "Party Marty" Haber was the on field entertainer for the Brooklyn Cyclones from 2001-2003. He was replaced by King Henry.
He is originally a member of the front office of the Cyclones. Since he was released from his entertainer position he was moved to another capacity of the team. He left the team after the 2005 season to become a police officer.
Ad blocker interference detected!
Wikia is a free-to-use site that makes money from advertising. We have a modified experience for viewers using ad blockers

Wikia is not accessible if you've made further modifications. Remove the custom ad blocker rule(s) and the page will load as expected.